EQUINE ASSISTED PSYCHOTHERAPY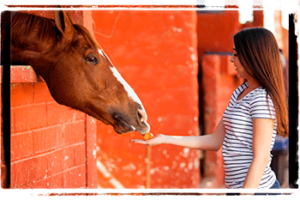 Equine Assisted Psychotherapy (EAP): An experiential form of therapy where the participants learn about themselves and others by participating in non-mounted activities with the horses. Non-verbal communication, assertiveness, creative thinking and problem solving, leadership work, taking responsibility, team work, relationships, confidence, and attitude are several examples of the tools utilized and developed by EAP.
Equine Assisted Growth, Learning & Psychotherapy
"Equine Assisted Psychotherapy (EAP) makes my soul sing," states Suzanne Carter. Suzanne is a psychotherapist, (graduated from IUPUI in 1978 and received her Masters degree in Psychology from the University of Colorado at Denver in 1981), Unity minister, life coach, author, and lecturer. With over 25 years as a therapist, she remains committed to learning new therapeutic methods to help her clients. "When I saw EAP training was available," she says, "I was eager to see what it was about. It was incredible!" EAP is a natural fit for Suzanne, who, in addition to her love for animals and her counseling practice, brings a spiritual perspective to this work. "I believe that all of life is sacred," she says. "Animals have a spark of Divine nature within them.  They can be wonderful teachers." Suzanne practices Equine Assisted Psychotherapy at an arena south of Denver, Colorado.
Animal Assisted therapies have been around for a long time. Therapy dogs have been in use for years working with people in nursing homes and hospitals as well as serving as companions for individuals with special needs. EAP, which was developed in the early 1990's, introduced the horse into the field of animal therapies. "What makes the horse so special is their sensitivity and willingness to interact with humans." Carter says, "If horses are not in their herd, they are instinctively motivated to pay attention to what the humans are doing in their presence."
The theory behind EAP is that the normal defenses and barriers which might hamper many forms of conventional therapy dissolve in the straightforward,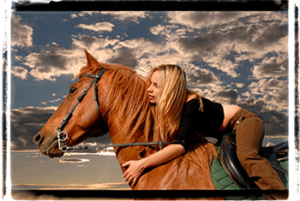 nonverbal interaction with horses. A trained therapist, like Suzanne, works with the emotional response evoked by the animal-human interaction. Unlike prolonged therapies, core issues quickly rise to the surface to be resolved. For example, fear, an appropriate response to a 1000 pound animal, presents an experiential opportunity to learn effective ways to maintain safety, set personal boundaries, and be assertive. Under the guidance of the therapist, the client experiments with ways to deal with the fear. The way the horse responds directly and clearly to the client's actions provides instant feedback about what works and what doesn't. What results is a therapy in which the client can immediately experience the benefits of making changes. The insights gained through this work translate into practical life skills. Clients may gain greater self-confidence, improve their creative thinking and problem solving skills, enhance their understanding of personal responsibility and increase self-awareness. EAP addresses a variety of mental health and human development concerns including behavioral issues, substance abuse, eating disorders, emotional and sexual abuse, depression, anxiety, relationships and communication. Each session is specifically designed to suit the client's needs. There are many activities possible, and the sessions can accommodate one individual, a couple, family or group. No prior experience with horses is required. The focus of EAP is not riding or horsemanship. 95% of EAP takes place on the ground and should the client get on the horse, it is for a slow, guided walk in one of the last sessions.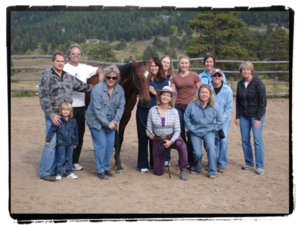 In addition to Equine Assisted Psychotherapy, Suzanne offers a variety of services including individual and group psychotherapy for children and adults, spiritual counseling, coaching, psychodrama and couples therapy. She offers workshops on many topics including overcoming phobias, grief and loss, relationship and women's issues. She can be reached in Denver at 720-540-6738
If you would like to schedule an appointment or learn more, feel free to contact me.  You can also check out my book!